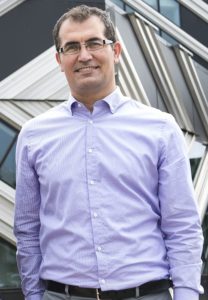 Research Interests:
Biomedical Electronics
Cuffless Blood Pressure Monitoring
Wireless capsule
Triboelectric Nanogenerator
Flexible/soft sensor device design
Wearable Sensors
Internet of Things (IoT) Sensors
Wireless Body Area Networks
Implantable Devices
Energy Harvesting
Professor  Mehmet Yuce is with the Department of Electrical and Computer Systems Engineering, Monash University, Australia. He received the M.S. degree in Electrical and Computer Engineering from the University of Florida, Gainesville, Florida in 2001, and the Ph.D. degree in Electrical and Computer Engineering from North Carolina State University (NCSU), Raleigh, NC in December 2004.
His research interests include wearable devices, Internet-of-Things (IoT) for healthcare, wireless implantable telemetry, wireless body area network (WBAN), bio-sensors, energy harvesting, and integrated circuit technology for wireless, biomedical, and RF applications. Dr. Yuce received a NASA group achievement award in 2007 for developing an SOI transceiver. He received the best journal paper award in 2014 from the IEEE Microwave Theory and Techniques Society (MTTS). He received a research excellence award in the Faculty of Engineering and Built Environment, University of Newcastle in 2010.  He is a senior member of IEEE. Dr. Yuce received more than 2.5 million research funds. He is a topical editor for IEEE Sensors Journal, an editor-in-chief for Sensors, and a guest editor for several IEEE journals.